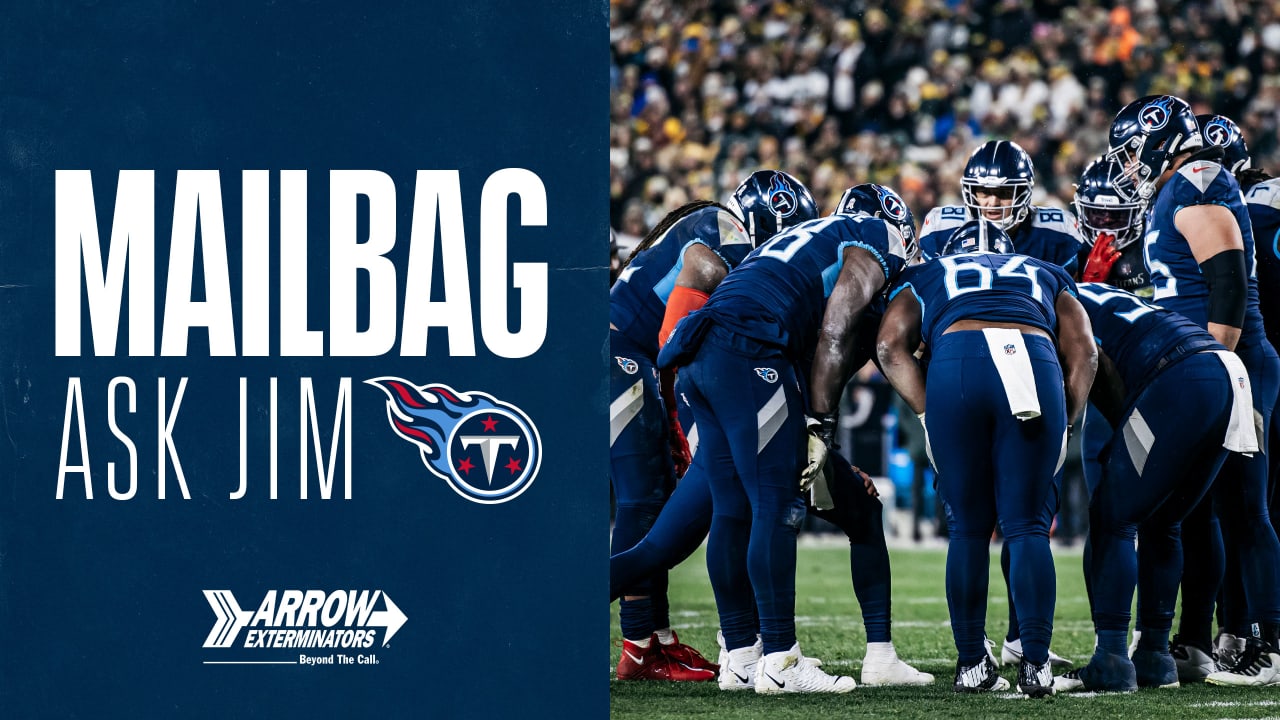 Jim Wyatt answers questions from Titans fans at start of Bengals week
NASHVILLE- Welcome to Bengals week.
And, welcome to Thanksgiving week.
The Titans revamped their training schedule this week to accommodate the holidays, with Sunday's game at Nissan Stadium in sight.
Let's see what everyone wants to discuss in this Tuesday's mailbag as the team returns to practice…
San Francisco's Ruben Alvear
Question: Hi Jim. Thanks again for all of your Titans coverage. It was a big 'W' on TNF. The attack was the most efficient and smoothest of the whole season. Tannehill's body language from the first practice was that of a confident guy in command. All night, Tannehill threw darts that hit his receivers beautifully in stride.
The previous 6 games, it was the Titans D who controlled the flow and pace of the games. So against GB it was good to see the attack take the reins with flow and tempo, and give the defense some breathing room.
Jim: Hi Reuben. No doubt about it. I think Ryan played really well too, and the extra free time this weekend should also help him move forward. It must continue.
Bill Caldwell from Lebanon, Tennessee
Question: Afternoon Jim, appreciate the tenacity of the Titans. The coaches emphasize that there are no excuses, we are all professionals and they are expected to perform at a high level. The next man works because it's an integrated part of the fabric of the team. As a result, many of our players are proving to be great additions. There's no doubt that when Bud Dupree is in the gang, he's a solid addition. The concern is that he was so hurt. His next men played extremely well. As a result, the team could consider leaving Bud next year, saving money for necessary contract extensions. It's a company. Happy Thanksgiving everyone.
Jim: Hi Bill. We'll see what happens with Bud in the future – the rest of this season, and beyond. You said it, the Titans are better with Bud. The goal now is to get him back to good health and have him help the rest of the way.
Terry Anderson from Edmonton, Kentucky
Question: Hello Jim, I hope all is well. What a great team effort overall Thursday in Green Bay! Then the story goes that our OC was arrested for possibly being under the influence of alcohol while driving a motor vehicle. I myself have been affected by a drunk driver in the great state of Tennessee. My accident involving the drunk driver took my friend's life and I was seriously injured. This was 2015. Bad driver on I 65. Drinking and driving choice was very bad and should have consequences. I'm sure the choice will have consequences. Legally it's the laws of Tennessee and the laws are black and white, so he will be punished by law. Jim, he should be held accountable for his decision to drive drunk. How does the team set a precedent for this behavior? Do they suspend or fire him?
Jim: Hi Terri. Sorry for your loss. I know everyone takes what happened very seriously. As for what the team will do, it's not for me to say.
Coach Vrabel addressed Todd Downing's impaired driving charge on Friday, and here's a bit of what he had to say:
"I spoke to Todd, and I spoke to (Amy Adams Strunk) and (GM) Jon (Robinson) and I've been in communication with her, and with the league," Vrabel said. "The league has policies regarding these incidents, and we will make sure the league has all the information it needs."
Vrabel said he couldn't answer specific questions about the incident or the potential penalty "out of respect for the legal process and the league process."
"I will say, though, that we all have a big responsibility as members of this community, and as coaches and players in this organization, as fathers, husbands and teammates, to make big decisions," he said. said Vrabel, "and we understand that .
"…This is something we're going to take very seriously. We're going to gather all the information we can, figure out what's next, and do our best to move forward."
Frank Stevens from Appleton, Wisconsin
Question: Treylon Burks had an incredible game against the Packers. Something special about him that really caught my attention. With the completion and the YAC was 51 yards and lower on the 4 yard line. Before getting up to celebrate, he was making sure the Packer who tackled him was okay. It was impressive and it should be noted.
Jim: Hi Frank. I remember the click, but our interpretation of what happened immediately after, I admit, is a little different. 😊
Travis Hayman of Spencerville, Indiana (via Cheatham Co.)
Question: It was nice to finally be able to talk to (you) at the Packers game. My boys and I were in the north end zone, a bit on the Packers side before the game when we spoke with you. My boys were asking who you were hanging out with before talking to us, a younger guy wearing a sports jacket and colorful original Jordans? I thought maybe it was a national journalist but I didn't recognize him? Do you remember?
Jim: Hi Travis. It was great talking to you too! I was talking to Turron Davenport from ESPN. He's still the sharpest guy on the sidelines! I always tell "TD" that he's not a badass because everyone always compliments him on his stylish wardrobe and shoes, and that makes me feel very unstylish!
Brian Weber from Bethlehem, Pennsylvania
Question: Hi Jim, can you give us an update on Harold Landry on how rehab is going and whether or not he might be available if the Titans are able to make the playoffs. Probably a long shot but, a great addition if he can come back. Thank you and have a wonderful holiday season!
Jim: Good to hear from you, Brian. Harold's rehab is going well, but don't get your hopes up he won't play again until the 2023 season.
Roslyn Kinchen from Sturtevant, Wisconsin
Question: I'm from Nashville but now live in the Milwaukee area and was at Lambeau Field Thursday night for the Titans-Packers. Great to see all the Titan blue in the stadium that night AND a few guys wearing Titan jerseys with cheese graters on their heads! Ryan Tannehill's body language and presence was the best I've seen this season. What do you think prompted this? Thanks!
Jim: Hi Roslyn. Ruben also mentioned it. I think Ryan feeling a bit healthier helped his performance and his body language/presence. Having guys around him making games also helped.
Franky Markle from Dyersburg, TN
Question: Hello Jim. How nice was a stress-free Sunday? I personally enjoyed it and I hope you will too. I realize this week is not a revenge game, but I would really like to win. Moreover, it is an AFC team. What is your opinion ? Thanksgiving has arrived and now the cream of the NFL is starting to rise. I think our D can take us all the way! Thank you and TitanUp
Jim: Hi Franky. Same. It would be nice to win. But it's one of seven games left. Just earn as much as possible.
Aaron Quarles from Cape Coral, Florida
Question: Hey Jim, I don't know if you can or how much information you can give on this issue, but when it comes to arguing with referees during play, how far are players/coaches allowed to go ? I know Vrabel looked upset when he didn't get the time out he wanted at the end of the first quarter and I saw a tape of him and Lewan (after the game) quite aggressively yelling at the refs . Are referees generally good enough to let coaches vent their frustrations without penalizing them? I think all the fans would be happy with a little more accountability from the officials.
Jim: I'm sure every official has their own line that cannot be crossed. I think the officials are trying to show restraint, but it's probably not a good idea to reprimand and insult them.
Marquess Wilson of Baltimore, Maryland
Question: I'm starting to say I love our team and the way we played prime time football on Thursday night but does the injury we continue to have impact the team and the game coming up, we have tuff games coming up, I really want our Titans team to still be able to show off that Tennessee tuff style football.
Jim: Need to get healthy, that's for sure, Marquis.
Have a great week everyone!