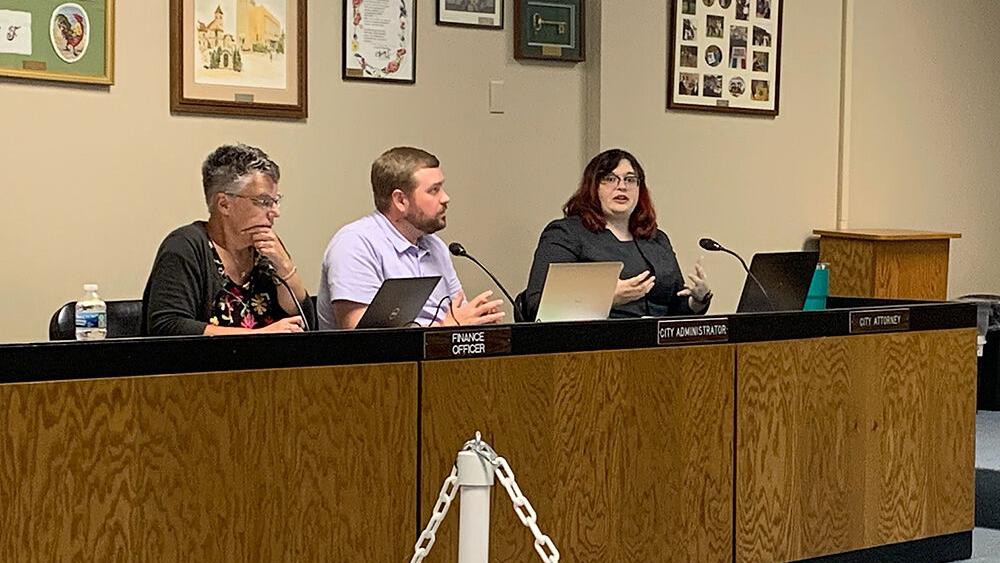 Little Falls to Reissue Tenders for Next Recycling Contract | Morrison County File
[ad_1]
Little Falls City Council returns to the drawing board.
After two months of controversial talks, council voted on Tuesday to reject all proposals it had received to be the city's next one- and two-unit residential recycling carrier. The Request for Proposal (RFP) will be reissued with additional criteria that will be used to determine the successful proposal.
"I think this was brought up at our last meeting about another city that continues to kick the box," Mayor Greg Zylka said shortly before the vote. "I hope we can find a solution one way or the other. We have been talking about recycling for several years and I hope we can come to an agreement as a Council.
"I'm tired of kicking the box," said board member Wayne Liljegren.
"The residents too," replied Zylka.
This exchange was followed by a 6-1 vote in favor of rejecting the four existing proposals and re-issuing the RFP. Leif Hanson voted alone against the motion, with Liljegren, Zylka, Raquel Lundberg, Brad Hircock, Jim Storlie and Frank Gosiak in favor. Council member Jerry Knafla was not present.
The four proposals received came from local carriers Bob LeMieur Roll-offs, Refuse and Recycling and City Sanitary – the latter holds the current contract, which expires December 31 – as well as national carriers Republic Services and Waste Management. Based on the criteria set out in the RFP and the information provided by each of these companies, city staff recommended that Council accept Republic's proposal.
The Council was originally scheduled to vote on whether or not to accept this recommendation on May 17. Local carriers brought more information into the conversation than what was provided in the RFP, implying that there may be a more cost effective way to offer single stream recycling.
The Council is authorized to consider only the information contained in the requests for proposals in relation to what was specified in the initial criteria when making its decision. Anything that was revealed after the fact was to be ignored, unless the Council wanted to start the whole process over again – which it ultimately did.
"What the case law tells us is that once you have chosen a path – once you have started to follow it – you must continue to take that path until a decision is made." said City Attorney Alissa Harrington. "Which means, in this particular case, that your options are to make a decision based on the criteria that were in the RFP and then go ahead. In other words, if you want to award the project under the current tender. "
Council discussed the matter for about 40 minutes in its planning session before Tuesday's regular meeting. Much of that time was spent on the likelihood that a specific decision would open the city to a lawsuit, or whether the tenders that were sent out were flawed in some way or another.
Harrington said, and later clarified that she and the other attorneys at her law firm – Flaherty & Hood, PA – believed that the rejection of all proposals and the reissuance of the tender was the path that had the least chance of someone bringing a lawsuit against the city. She stressed, however, that the process has been robust and that the likelihood of a prosecution – if Council accepts the staff recommendation – to succeed was low.
Storlie highlighted three areas that would concern him from a legal point of view if the Council accepted the recommendation to negotiate with the Republic on the basis of his proposal. The first was that the RFP did not specifically state that the city was looking to move to a one-flow process – where residents can put all materials into one container, rather than sorting them.
City administrator Jon Radermacher said this was intentionally left vague. This was done because, in his previous conversations with carriers, he had heard that the single stream could be twice as expensive for customers as the current mixed sorting system. He didn't want to spell that out in the RFP and ask each company to come back with a price for a one-time feed higher than what the Board would be comfortable with.
"During the time the RFPs were submitted, and then before they were opened for response and before they were sent back, the carriers called me," Radermacher said. "They asked questions. They specifically asked, "Are you looking for a unique flow? And my consistent response to them was, 'Not specifically. Give us your proposal based on the best, most cost effective and practical option as specified in the RFP. ' It doesn't say single stream; it doesn't say sorted. It simply says, "Give us your best option that offers the most convenience – the cheapest option that offers the most convenience." It was the intentionality behind this venture.
His second concern was that no board member was on the referral committee, as noted in the RFP. Harrington said the Council's strong involvement in the selection process would meet those criteria in the eyes of the law.
His final concern was that the RFP asked for a price that only covered 2022, but Republic's presentation of its costs over five years was factored into the recommendation.
Harrington said, again, that this is an area where the wording has been allowed to be ambiguous. The idea was for respondents to provide a minimum cost proposal for one year, and anything beyond that could be resolved in negotiations. There is no violation of the criteria of the tender, as it says "at least one year".
"I understand that there is an ambiguity. It was intentional, "Radermacher said. "Whether it warrants legal action or not, I just thought it was very important that I could share the intention behind why we did these things the way we did them. I didn't have the feeling that our process was outside the norm or unfair or unprecedented from what we should have expected.
Harrington stressed that she didn't think a lawsuit based on any of these issues would be successful. She believed, however, that there was a high degree of likelihood that a complaint would be filed if the city went ahead on the recommendation to negotiate with Republic.
"However, the risk of someone wearing a suit is much, much higher," she said. "We saw this in the posture and simply because of what we have seen in other cases is that even small inconsistencies with the process frequently lead to lawsuits against cities in these types of cases. . "
Gosiak clarified that whether or not a lawsuit is successful, the city would likely have to spend the money defending itself in court if it chooses Republic based on current tenders. Harrington said that was indeed the case.
Lundberg said, however, that she was still in favor of this option. She judged Republic's proposal – which is not known to the public – to be the best of the four received by the city. All the information received after the fact, she reiterated, could not be taken into account if the city were to choose one of the original tenders.
She also reminded her fellow board members that they had all had the opportunity to review the RFP before it was sent to potential carriers, so they were involved in the whole process. She argued that Republic was the right choice and that it should be decided in May, but she was "too chick to stand up and say it".
Gosiak said he believes going with Republic puts the city in the most precarious position from a legal standpoint. He also said it's common for council members to get information on a topic after it was initially discussed in the form of public comment.
"So we're going to give in because we're afraid of being sued, even though it's the right thing to do?" Lundberg said.
Gosiak said he wanted to make his decision based on what was included in the RFP as well as what has been put forward since. He said the issue of how many jobs a local carrier could create or keep was not included in the RFP. He felt that taking all the information into account was best for the city.
"It's not a court case where we sit here and we just take the facts that were presented there and we have to make a decision, like in a murder trial or something like that," he said. declared. "It's something totally different, and I'm not going to take it like, 'Well on this date, this date …' It's not that easy with me."
Lundberg said that at some point, whether it's a year from now or five years from now, the contract under discussion will expire. At that time, she said that all carriers would again have the opportunity to make a proposal.
"This new contract that we will eventually – hopefully – conclude with one of the carriers will not last forever," she said. "It's going to have an end date. If it's two years, then increase your game. Come back with a better proposal in two years.
Hanson clarified that his motion at the June 21 board meeting to reject the committee's recommendation and negotiate with Bob LeMeur Roll-off, Refuse and Recycling – which failed on a tied vote of 4-4 – was made only on the basis of what was contained in the proposal. He said he liked his proposal because it was the lowest price and he uses the current bins.
He said everything he needed to know to "get the gist" of the company's proposal was spelled out in their one-page proposal, referring to the two national companies providing 29- and 19-page documents. , respectively.
"I don't need 29 pages," Hanson said. "I know where they live. I know where their store is. The other local carrier, I have their phone number in my phone if I have a question. (I) do not go through the vice president of city services or something like that. I'm happy with their DP, and just want to clarify that. There is no additional information provided to me by them or their representatives that I am considering apart from what is in their RFP.
Finally, at the regular meeting, Hanson brought this motion back. He was seconded by Liljegren, but was pulled off the court shortly after due to a procedural issue. Since the motion has already been put to a vote, the city's charter states that a person who voted "no" the first time must submit it for reconsideration before they can vote a second time.
Once this motion was withdrawn, Gosiak made his motion to reject all proposals and reissue the RFP.
"Can I confirm that you decide to reject all offers and issue a new tender?" Is that correct? "Harrington asked.
"That's right," Gosiak confirmed.
[ad_2]