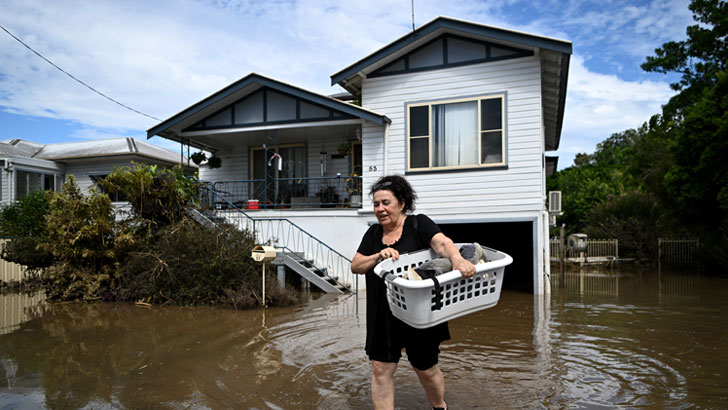 Scammers Target Flood Victims and Baby Boomer Home Loans: What You Missed
Scammers set to target flood victims, more than one in four properties owned by women and the launch of Boomer Loans. Here are five things you may have missed this week.
East coast flooding will attract scammers, Westpac warns
As millions of people on the country's east coast begin the process of cleaning up after devastating floods, Westpac is urging Australians to be extra careful as the disaster in Queensland and New South Wales could lead to increased scams.
Westpac's managing director of fraud and financial crime prevention, Chris Whittingham, says scammers often exploit disastrous events to take advantage of unsuspecting victims.
"Time and time again, following a major event or natural disaster, we see an increase in the number of people being duped by scams.
"It's a tactic fraudsters have continued to adopt throughout the pandemic, where scams have nearly tripled."
Westpac warns that scammers can try a variety of tactics from creating fake donation sites to posing as insurers, businesses or government organizations offering help to victims.
"We urge people to be very alert to the possibility of scams and to check carefully that any websites or charities are legitimate before sending funds or your personal information," adds Whittingham.
Women are flexing their property market muscle
The CoreLogic Women and Property 2021 report confirms that women are doing it for themselves in the real estate market, with more than one in four homes (26.6%) owned by women nationally, just below the 29.9% of properties owned by men.
Female homeownership rates are highest in Greater Sydney (31.9%), and surprisingly women are a driving force in some of the city's most expensive areas, including the Eastern Suburbs (37.1%) , North Sydney and Hornsby (37.0%).
While male/female couples are still the norm on the housing market (43.5%), the proportion of buyers is increasing. CoreLogic says more than 28% of real estate purchases in 2021 were made by women, up from 27.3% in 2019.
For those who can rise to the affordability challenge, home ownership is a plus for financial well-being, especially later in life. A 2019 study by the Center of Excellence in Population Aging Research found that poverty rates are 42% among renters over the age of 65 in Australia, compared to 6% among outright homeowners.
Launch of a lender reserved for baby boomers
Financial help could be at hand for the more than 4 million Australians aged over 55.
A new fintech from Western Australia – the aptly named Boomer Home Loans, will launch in April 2022, aiming to become the country's first specialist home loan lender for the over 55s.
This may be a step in the right direction for the financial health of baby boomers. More than two million households led by people over 50 currently owe more than $600 billion on their mortgages, with many paying interest rates topping 4% at a time when other borrowers can get lower rates at 2%.
Still, those over 55 may struggle to get a home loan or refinance an existing loan with regular lenders unless they have an exit strategy in place. And that usually means planning to sell their home to pay off debt in time for retirement.
Although based in Perth, Boomer Home Loans will operate nationwide and is expected to be available through brokers in the second half of 2022.
More than one in five changes jobs
New statistics from the NAB show that more than one in five Australians have changed jobs in the past year, and nearly one in four plan to hand in their notice this year.
After decades of low employee turnover, NAB research found that COVID had a big impact on how we view work. The survey found that the top reasons workers consider leaving are lack of personal fulfilment, lack of career progression, mental health and low wages.
There is certainly no shortage of jobs to be filled. SEEK says job postings increased 35.8% in February 2022 compared to February 2021.
Avalanche of refinancing in 2021
A record 363,978 home loans nationwide were refinanced in 2021, up 28% from 2020, according to PEXA, a digital home settlement platform. Victorian homeowners led the charge to switch lenders, with 125,071 refinances last year, up 19% year-on-year.
PEXA Insights Head of Research, Mike Gill, said, "Historically low interest rates, combined with heightened speculation about impending rate hikes, have prompted homeowners to refinance across the country, especially in the second half.
Is it too late to strike a better deal with a new lender? Maybe not. Reserve Bank data shows that variable rates on existing loans currently average 3.77%, while the average for new loans is 3.49%. On a $500,000 mortgage, that rate differential could mean a savings of $76 on monthly payments — and a much larger savings of $22,700 in interest over the term of a 25-year loan.
According to Mozo, refinancers can still find $3,000 repayment deals with more than 20 different lenders, including BOQ, HSBC, ING, ME, St. George, Suncorp and Virgin Money.
Receive stories like this in our newsletters.